Katy Perry kicked off the first leg of her California Dreams Australian tour last week in Melbourne, performing to a full house of dedicated fans, who were decked out in blue and purple wigs.
She opened the show with her number one hit 'Teenage Dream', dressed in a sequined red corset and cotton candy puffy skirt. The most amazing thing about this opening number was the extensive set. Keeping in line with her candy land theme, the stage was straight out of a cartoon, with a lollipop staircase, cupcake trampolines and pink clouds hovering above. As was suspected, Perry isn't the type to take a theme halfway — the entire venue smelt like fairy floss.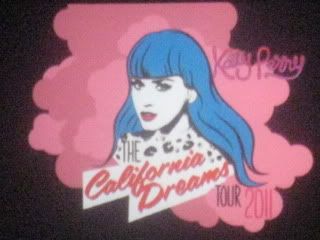 Katy Perry's California Dreams Tour 2011 (Photo: Penny Evangelou)

The concert also had a Wizard of Oz storyline, in which Perry wakes up inside a mystical land of sugar and spice and all things nice, on a quest to find her missing cat, Kitty Purry. This concept was used throughout the performance and allowed for more elaborate props and frequent costume changes.
Perry played the majority of her songs from her new album but also included her original hits 'Waking up in Vegas', 'Hot and Cold' and of course the song that launched her into stardom, 'I Kissed a Girl'. Perry is a very involved performer, treating the crowd to several close encounters. Whether it was throwing lollies into the mosh pit, kissing a girl in the crowd or pulling up a shirtless boy on stage for a hug, she seems more than willing to make her concert an experience to remember. She also gave an impromptu performance of Whitney Houston's 'I wanna Dance with Somebody' and invited several lucky fans on stage to dance along side her.
Perry is a born performer with tendencies that border on caricature. She revealed her love of Australian television, having a go at a few lines from Summer Heights High and Kath and Kim. She sang a pared-down version of her ballad 'Thinking of You', and, as she strummed away on her glittering guitar, she admitted to the crowd that she thought it would take ten years for her to be able to fill an arena show, thanking her fans for helping her get to where she is today. In her other ballad 'Not like the movies', she was hoisted up onto a flower-covered swing and lifted high above the stage as images of cartoons kissing were projected onto the train of her dress.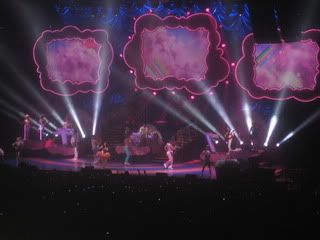 Katy Perry's set at Rod Laver Arena (Photo: Penny Evangelou)

Perry's stage version of her current number one song 'E.T.' wowed the audience, with a laser show and Perry dressed in an alien cat suit complete with ears and a tail. But it was the performance of her feel good song 'Firework' that gained the starlet a standing ovation. The song ended with a bang as fireworks were released from the roof and the floor. Her anticipated encore of 'California Girls' got the whole arena dancing. She certainly saved the best for last with a dress made out of cupcakes, dancing gingerbread men, a giant purple cat, and a bevy of dancers joining her on stage for the final song as beach balls were released into the crowd.
Katy Perry is most definitely a performer worth seeing. Not only did she manage to belt out a near-perfect version of each of her songs, but she did so with flair, creativity, and countless costume changes. I often question the value of going to live shows (we have the songs on our iPods so what's the point?) but Katy Perry reaffirmed the purpose of the arena concert: entertainment. Perry proved why she is one of the biggest names in pop today. If you see any show this year, make sure it's this one!
Penny Evangelou is a final-year Bachelor of Journalism student who is passionate about food, fashion and beauty writing. She is also a member of the 2011 upstart editorial team.